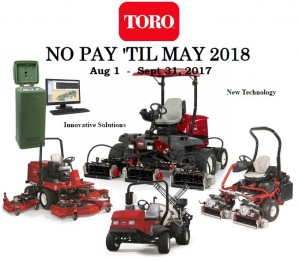 Looking to upgrade your irrigation control system?
Replace or add a mower to your  equipment fleet?
Tired of the same old mowers breaking down causing your equipment budget to be slashed due to excessive repairs?
Now is the time to take advantage of a finance program that will allow you to up-grade your equipment now and start payments next year.
Midland Implement, Toro and Approved Finance Partners have teamed up to offer a NO INTEREST / NO PAYMENT program, up to May 1, 2018!
While it is necessary to incorporate a 24, 36, 48 month finance contract, you have the option to pay the contract amount in full by May 1, 2018. The bottom line is, now is a great time to purchase new equipment today and avoid the price increases this fall!
If you would like more information or have any questions, please call 1/800-677-6426.