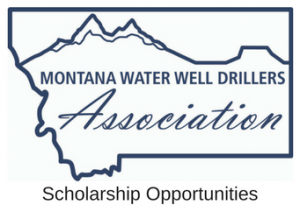 Deserving family of Montana Well Drillers Association members can receive educational scholarships.

The Montana Water Well Drillers Association (MWWDA) is pleased to offer three $1,000.00 scholarships to deserving family members of MWWDA Members. The Association recognizes the need for educational advancement at all levels of the industry and seeks to support students pursuing their educational goals
Qualifications:
Applicant must be a member of the Montana Water Well Drillers Association (MWWDA), family member of MWWDA, employee of MWWDA member, or direct family member of employee. Applications must be completed in full and received by the MWWDA no later than June 30, 2017. Scholarships will be awarded July 30, 2017, by the Scholarship Committee. Funds will be paid directly to the academic institution.
Click here to learn more and to download the application.