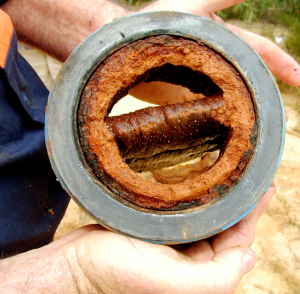 Do I have an Iron Bacteria Problem?
Any of the following symptoms will indicate a problem with iron related bacteria:
Rusty slime inside pipes.
Cloudy, rusty water at pump start-up
Reduced water flow from the well
Slimy deposits blocking main line and laterals
Unpleasant odor in water pumped from the well
Slimy, rusty deposits in drippers and sprinklers.
Severe staining on pavement, walls and foliage.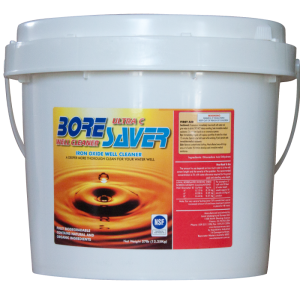 Throughout Montana, well perforations and pump internals are routinely being plugged up by a rusty colored slime. This slime ultimately leads to a decrease in water well efficiency and an increase in energy costs and pump maintenance. The culprit is iron related bacteria.
There is an environmentally friendly, easy to apply solution: BoreSaver Ultra C.
It effectively removes the iron oxide deposits that build up in bores, wells, pipes and pumps. BoreSaver Ultra C is specifically designed to improve the quality of the water supply, increase the output of the water well, and extends the working life of the pumping equipment and accessories.
BoreSaver Ultra C is NSF approved for potable water supplies and is safe, easy to use, biodegradable and environmentally friendly.   Ask for it at Midland Implement.